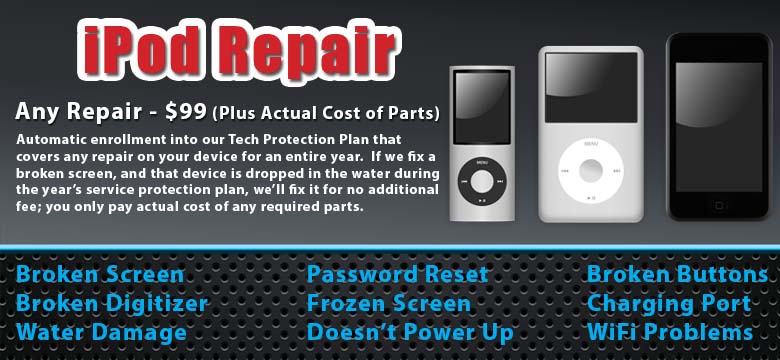 The iPod is easily one of the most popular music devices. If yours isn't working and you need iPod repair in Toledo, Ohio, remember Get Tech Plus! Check out our iPod repair services below.
Broken Screen
A broken screen on an iPod renders the device useless. iPods aren't cheap to replace! Don't spend a ton of money on a new device, bring it to Get Tech Plus so that we can repair the broken screen.
Broken Glass Digitizer
If your iPod has a broken glass digitizer, using the device is difficult. With many iPods being touch-screen, not being able to utilize the touch feature can cause a lot of frustration. Let us help you get your device working and looking like new again by having us replace the broken glass digitizer.
Water Damage
Water damage is one of the most common iPod problems. Whether you accidentally dropped your device in a puddle, or something was spilled on it, Get Tech Plus can repair your water damaged iPod for you in no time.
Password Reset
With so many passwords for so many devices, needing a password reset is becoming commonplace. Get Tech Plus can perform a password reset on your iPod so that you can access your device again.
Frozen Screen
Screen frozen on your iPod? There are many reasons for why this may be happening, but by bringing your iPod into us, we can diagnose your device and repair your frozen screen problems.
Doesn't Power Up
If your iPod doesn't power up, it can be a frustrating experience. Before you assume that your device no longer works, bring it into us at Get Tech Plus so that we can determine why your iPod doesn't power up. We can then repair the problem so that you can have your iPod in good working order again.
Back Cover Replacement
Your iPod's back cover protects your device. If the back cover is missing or damaged, we can replace it for you so that your iPod is in optimal condition and working order.
Power Flex Cable/Button Replacement
Get Tech Plus can repair your iPod's power flex cable and we can also perform button replacement. If either of these components are not working properly on your iPod, bring it to us so that you can have repairs made and start enjoying your device again.
WiFi Problems
If your iPod is not connecting to WiFi, you don't have access to many of your device's features. Don't spend another minute without Internet on your iPod – bring it to us that we can diagnose what's going on and have WiFi restored.
Charging Port Problems
If your iPod is no longer charging, it may be due to charging port problems. If you find that you keep spending money on new cables and nothing has worked, bring it to Get Tech Plus to see if the charging port is the culprit.