Android Phones are one of the most popular types of smartphones available – they can also be expensive to replace if they get damaged or aren't working properly. Don't spend money on a replacement, bring your Android Phone to Get Tech Plus in Toledo, Ohio for repairs!
Broken Screen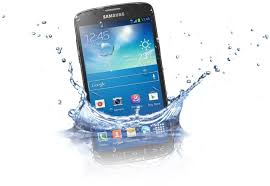 Android Phones have intricate screens that may break. If your phone's screen isn't working properly, you probably can't use your device to its fullest, if at all. If your Android Phone has a broken screen, bring it to us for repairs in no time!
Broken Glass Digitizer
Most Android Phones have touch screens, which allow the user to easily interact with the device. But if the glass digitizer is broken, the device will not work properly. Glass Digitizers on Android Phones can be replaced. Bring it to us for repairs rather than spending money on a new device!
Water Damage
Water damage can happen to any Android user no matter how careful you are. Do it yourself repairs may end up making the damage worse and render your device unusable. If your Android has water damage, bring it to Get Tech Plus for professional service.
Password Reset
While passwords can protect your device from unauthorized access, a forgotten password renders a device useless. If you need a password reset on your Android Phone, bring it to Get Tech Plus so you can have full access to your device restored.
Frozen Screen
If your Android Device has a frozen screen, we can help! A frozen screen means that you can't use your device, but since freezing can be caused by numerous things, it's often hard for a user to diagnose what's wrong. Our expert repair staff will address your frozen screen issues in a timely manner so that you can start using your Android again!
Doesn't Power Up
If your Android Phone doesn't power up, it can be due to many reasons. From battery issues to more complex problems, Get Tech Plus will determine why your Android isn't powering up and then make repairs to get your device back up and running.
Back Cover Replacement
The back cover of your Android protects the battery and other important components of your phone. Get Tech Plus provides back cover replacement so that your device keeps functioning properly.
Power Flex Cable/Button Replacement
Power flex cable and button issues on your Android can result in a frustrating experience. The experts at Get Tech Plus can address power flex cable issues and perform button replacement.
WiFi Problems
Android Phones need WiFi to be working properly in order for you to get the most enjoyment out of your phone. If your Android is experiencing WiFi problems, bring it to us for a diagnosis and repairs.
Charging Port Problems
If your Android isn't charging, it could be due to charging port problems. Keep your device mobile and have us take a look at your Android and make charging port repairs.